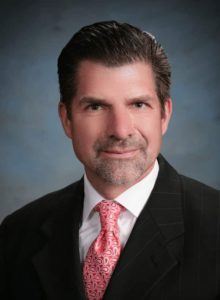 EvidenceCare prides itself on working with the names you know in healthcare to bring you the best and most current content we possibly can. However, we know face-to-face time with these experts would be ideal. While we can't get you a dinner-and-a-movie evening with the biggest names in medicine, we can give you a virtual coffee date. We interviewed our authors about the important things, like how they take their coffee and why they went into medicine in the first place. Always wanted to pick an expert's brain? Well, now you can.
This week we're getting coffee with Dr. Frank LoVecchio, co-medical director at Banner Regional Poison Control Center, vice chairman of the Maricopa Medical Center department of emergency medicine, and author of our Antibiotic Advisor and pneumonia protocols.
Q & A with Dr. LoVecchio
Q: How do you take your coffee?
A: Triple espresso with artificial sweetener – isn't that terrible?
Q: Why did you choose to practice medicine?
A: Medicine is the single greatest, most satisfying field ever. I get to help people every day. I've chosen to work in centers that are underserved and uninsured because that's kind of where I came from. I'm a child of immigrants who came here from Italy. I realize they needed help back then, and this is a way for me to give back today. I try not to take that for granted. When I'm working in the ER, I know that my time with the patient and their family is likely one of the most significant things to happen in their life. As cheesy as it may sound, it's very satisfying to know I get to help make a difference in my patients' lives every day.
Q: What do you think makes EvidenceCare's antibiotic guide different from some of the others on the market today?
A: By far the ease-of-use. If I'm honest, when a clinician needs to find an answer, they have under a minute to do so. EvidenceCare is great if you want the best evidence in the shortest amount of time possible. Some of the competitors have great evidence, but it takes much longer than a minute to find what you need. In addition, the visualization aspect of EvidenceCare is incredible. Being able to show a patient risk and percentages in a way that's easy to understand is a very valuable tool. One of the most important things a patient comes to you for is an opinion. At the end of the day, you want to know you've done your best.
Q: What do you consider your greatest accomplishment?
A: Overall, being a dad. Professionally, I've been lucky enough to be the American College of Emergency Physicians' Teacher of the Year. I've been lucky enough to be board-certified in four specialties and to be published in journals that I once only dreamed of being published in. I've also been blessed to be involved in the education of 200 residents so far, and my hope is that a few my principles of compassionate, evidence-based care will go on to them to make some impact on the way future doctors think and treat their patients. The beauty of medicine is that it lends itself to being a teacher. That's one of the reasons why I do academics. You have an obligation to spread the word. We owe it to the field of medicine to always be bringing the field forward.
Q: What's next on your bucket list?
A: I'd like to spread the word about better, evidence-based care to different countries, specifically third-world countries. We can make a huge difference by making small changes. I've been fortunate to be able to do some of that with JAMA for antibiotics and other treatments, but I'd like to continue.
Q: How do you relax when you're not working?
A: I enjoy exercise, outdoor sports, and sadly, reading – is that lame? I also enjoy cooking. My dad's a chef, and I enjoy taking his recipes and tweaking them to make them even better. I'm always perfecting recipes, whether it's homemade sushi, cheeses, or even house-made beer.
Q: What's the farthest place you've traveled?
A: When I was a kid, we'd always go back to the small town outside of Rome where my family is from. I definitely took it for granted when I was younger, but you can never get enough of Italy or Europe. I also really enjoy India, where my wife is from. We are trying to bring medicine to developing countries so next on the list is Sri Lanka. In addition to India, I would love to go back to Thailand, Japan, and Israel. We try to teach our kids by traveling and thereby learning the history behind other places.
Q: What's your favorite meal?
A: I'm an Italian guy from New York City; I have to say pizza.
Q: What would you be doing if you weren't practicing medicine?
A: Nothing. I can't think of a single thing. I probably would be nicer at times (to my colleagues), but professionally it has been such a great, satisfying run.
Want to check out our Antibiotic Advisor and pneumonia protocols written by Dr. LoVecchio? Start using EvidenceCare for free today. Sign up here.