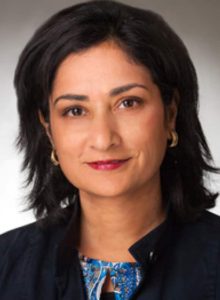 EvidenceCare prides itself on working with the names you know in healthcare to bring you the best and most current content we possibly can. However, we know face-to-face time with these experts would be ideal. While we can't get you a dinner-and-a-movie evening with the biggest names in medicine, we can give you a virtual coffee date. We interviewed our authors about the important things, like how they take their coffee and why they went into medicine in the first place. Always wanted to pick an expert's brain? Well, now you can.

This week we're getting coffee with Dr. Ghazala Sharieff, corporate director of physician outreach and medical management at Scripps Health in San Diego, clinical professor at the University of California San Diego, and author of our pediatric advanced life support (PALS) protocols.


Q & A with Dr. Sharieff
Q: How do you take your coffee?
A: I'm a tea drinker. I drink it Indian style with cream.
Q: Why did you choose to practice medicine?
A: The first time I can remember wanting to practice medicine was when I was seven years old. I was on my first trip to India, and I remember seeing so many injured people in pain on the streets. It makes you thankful for the health system we're in.
Q: How did you become interested in pediatrics specifically?
A: I started out first in emergency medicine at Stanford. Then I went on to do a pediatric fellowship, and the more I learned about caring for children, the more I wanted to know more. I ended up in pediatric emergency medicine. Caring for children is a beautiful thing. Unlike adults, when children start to feel better, they immediately start acting like it. They're up and running around the room.
Q: What do you think is one (or some) of the major problems in healthcare today?
A: This is a very challenging time to be in healthcare. With the triple aim, our focus is split between providing a better patient experience, improving population management, and trying to reduce costs. It's hard to do all three. Physicians are really struggling. You have to work faster and faster because the more patients you see, the more you get paid. There's less and less time spent at the bedside. We're losing the art of being a physician. You want more time with the patient.
Q: Do you think EvidenceCare solves any of these problems?
A: Yes, with EvidenceCare all the tools are there. The art of being a physician is what we want to bring back. Anything to help the physician have more valuable time with the patient at the bedside is needed.
Q: What do you consider your greatest accomplishment?
A: My two daughters, 14 and 16, and the relationship and respect they have for each other.
Q: How do you relax when you're not working?
A: I've been playing the drums for about three years now. It's my release. I'm currently working on "Stitches" by Shawn Mendes. Before the drums, it was karate.
Q: What's the farthest place you've traveled?
A: I have traveled a lot. India, Pakistan, Saudi Arabia, Singapore, Indonesia, but my favorite has to be Istanbul. You can find me retired there one day.
Q: What's next on your bucket list?
A: To go to Australia. I want to see the koalas and kangaroos.
Q: What's your favorite meal?
A: My favorite meal is at Chart House in California. A lot of places can make a good steak, but I go for their chocolate lava cake made with Godiva. It is out of this world.
Q: Do you have a Twitter account?
A: No, maybe that's what's next on my bucket list: to get a twitter account.
Want to check out our pediatric life support protocols written by Dr. Sharieff? Start using EvidenceCare for free today. Sign up here.