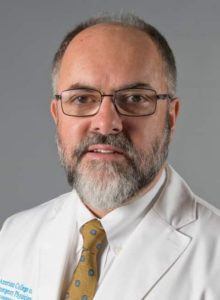 EvidenceCare prides itself on working with the names you know in healthcare to bring you the best and most current content we possibly can. However, we know face-to-face time with these experts would be more ideal. While we can't get you a dinner-and-a-movie evening with the biggest names in medicine, we can give you a virtual coffee date. We interviewed our authors about the important things, like how they take their coffee and why they went into medicine in the first place. Always wanted to pick an expert's brain? Well, now you can.
This week we're getting coffee with Dr. William Brady, professor of emergency medicine and medical director for emergency management at the University of Virginia, chief medical officer and medical director at Allianz Global Assistance, and author of our acute coronary syndrome (ACS) and transient ischemic attack (TIA) protocols.
Q & A with Dr. Brady
Q: How do you take your coffee?
A: With milk, no sugar
Q: Why did you choose to practice medicine?
A: It's exciting, interesting, and rewarding. It's also constantly challenging, and you get to help others doing it.
Q: How did you become interested in ACS specifically?
A: I've always been interested in cardiac. I trained in internal medicine, so I had already completed that residency when I showed up to my emergency medicine residency. The head of the department looked at me and said, "You're trained in medicine. Why don't you run the EKG conference for the department?'" So I did. As a result, I became trained in cardiovascular emergencies, such as acute coronary syndrome. I guess you could say I was standing in the hallway at the right time.
Q: What do you think is one (or some) of the major problems in healthcare today?
A: There are major problems in healthcare today. Some of these include hospital crowding, people not using the healthcare system appropriately, healthcare providers not using the system appropriately, and providers not receiving the appropriate reimbursements for the type of work that they do.
Q: What do you consider your greatest accomplishment?
A: A combination of marrying my wife and having four wonderful children
Q: How do you relax when you're not working?
A: I like to read and watch old movies. I'm also a dedicated fan when it comes to attending my children's soccer or lacrosse games.
Q: Farthest place you've traveled?
A: Hong Kong
Q: Favorite place you've traveled?
A: Corolla, North Carolina
Q: What's next on your bucket list?
A: To get home, start a fire, and relax. I'm pretty happy with where I am.
Q: What's your favorite meal?
A: I like food. That would have to be baked spaghetti or a cheeseburger. I really like anything, except fried okra.
Q: What would you be if you weren't practicing medicine?
A: Maybe a firefighter paramedic