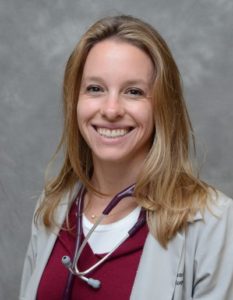 EvidenceCare prides itself on working with the names you know in healthcare to bring you the best and most current content we possibly can. However, we know face-to-face time with these experts would be ideal. While we can't get you a dinner-and-a-movie evening with the biggest names in medicine, we can give you a virtual coffee date. We interviewed our authors about the important things, like how they take their coffee and why they went into medicine in the first place. Always wanted to pick an expert's brain? Well, now you can.

This week we're getting coffee with Dr. Kelly Williamson, emergency medicine physician and assistant residency program director at Advocate Christ Medical Center and author of our diabetic emergencies protocols.
Q & A with Dr. Williamson
Q: How do you take your coffee?

A: Heavy on the cream, no sugar
Q: Why did you choose to practice medicine?

A: My mom was a nurse, which provided my initial exposure to the medical field. As part of a kindergarten project, I wrote that I wanted to be a doctor when I grew up, so I definitely knew early! In college, I volunteered at my university's hospital, which solidified my interest in the field. I was later drawn to emergency medicine because I enjoy the thrill of initial diagnosis and emergency patient management.

Q: How did you become interested in diabetic emergencies specifically?

A: As diabetes becomes increasingly common, we are seeing lots of patients presenting to the emergency department with diabetes-related complaints. It's essential to be able to properly handle diabetic emergencies because they can rapidly become life-threatening. The initial hours are really critical, and that's what I'm focused on.

Q: What do you think is one (or some) of the major problems in healthcare today?

A: Unfortunately navigating our healthcare system can be an incredibly complex task, leaving some patients with limited avenues to access care outside of the emergency department.

Q: What do you consider your greatest accomplishment?

A: The relationships in my life: my parents, my family, and my friends. I feel incredibly fortunate for the support system I've been able to develop over my life.

Q: What's next on your bucket list?

A: I want to continue to travel. I love exploring new places and learning about different cultures and their histories.

Q: How do you relax when you're not working?

A: When I'm not traveling, I enjoy running with my dog (a 3-year-old lab-mix rescue) and finding great new restaurants. I'm also a huge fan of the Chicago Blackhawks!

Q: Where is the farthest place you've traveled?

A: Australia. I went scuba diving in the Great Barrier Reef.

Q: What's your favorite meal?

A: Sushi

Want to check out our diabetic emergencies protocols written by Dr. Williamson? Start using EvidenceCare for free today. Sign up here.