Time allocation and wasted physician time
The physician shortage, combined with other healthcare workforce issues, has resulted in physicians being overworked and burned out. Between EHR documentation, payer relations, and clerical tasks, physicians feel the burden of administrative work and are stretched thin with few resources to optimize their workflow and less time to care for patients.
A recent time-allocation study showed that on average, physicians spend 49% of their day in the EHR, with only 27% spent caring for patients.
Bed status determinations play a massive role in the amount of administrative work physicians carry and are a clear opportunity for hospitals to improve the physician's workflow.
The problem with bed status determinations
When deciding to admit a patient to observation or inpatient care, physicians must follow the policies and regulations of multiple organizations, including, The Centers for Medicare & Medicaid Services (CMS), evidence-based guideline organizations, and proprietary insurance policies.
This is a time-consuming task that physicians were never trained to know, and it's nearly impossible to find the time to stay up to date with changing guidelines.
This means physicians don't have the proper bed status criteria at the point of care, leaving the Utilization Review and Case Management teams with incorrect or missing documentation. As a result, it's difficult to justify the bed status without more clinical intervention after the point of care, so lost revenue and denials are often the negative result.
Just how much time is wasted fixing bed status determinations?
We talked with clinicians familiar with the administrative work associated with bed status determinations and found that physicians spend up to 45 minutes per admission on bed status determinations and related administrative work. And due to the flawed process, they are interrupted up to nine times during their admission evaluation of the patient.
After admitting a patient, the physician workflow typically consists of:
Prolonged patient handoff conversations: Communicating the up-to-date information and treatment plan with necessary team members takes 2 minutes.
Documentation: Documenting criteria into clinical notes typically takes 3 minutes.
UR team requests to change bed status: After the UR team examines patient medical records, the bed status may need to be changed by the physicians, taking 5 minutes.
Fix gaps in documentation: As physicians aren't trained on admission criteria, there are often gaps in documentation. Fixing these errors can take between 5-10 minutes.
Speaking with a physician advisor: 5-10 minutes.
Peer-to-peer with payers: The admitting physician communicates with a physician who works with the payer to discuss the need for inpatient care ordered by the admitting physician. This process is done to receive payer approval and typically takes 10-20 minutes.

Administrative burden leads to physician burnout
52% of hospitalists claim to be burned out. Physicians went into the field because they wanted to care for patients. Instead, they spend most of their day doing administrative tasks leading them to job dissatisfaction and burnout.
Burnout can be caused by a lack of work-life balance or a chaotic work environment, but when asked, administrative tasks, such as charting and paperwork, were the doctors' No. 1 reason for burnout.
This is a dangerous position for physicians as it can take a toll on their patients' care, personal well-being, and your hospital's bottom line. When physicians can spend more time with patients, hospitals see higher patient satisfaction, higher physician satisfaction, and overall better care.
So, how do we reduce administrative tasks related to bed status determinations to get physicians back to doing what they love – caring for patients?
Reducing physician workload with AdmissionCare
It starts with empowering physicians with the right tools at the point of care. We don't want to just throw more software at the problem unless it's actually reducing admin work for physicians.
By putting the criteria for bed status determinations directly in the EHR, the admission process is streamlined and there are less downstream interruptions coming back to the physicians. Turning 45 minutes of extra work into 45 seconds.
Accelerating patient handoff
Syncing documentation into clinical notes
Determining appropriate bed status
Access at the time of bed status decision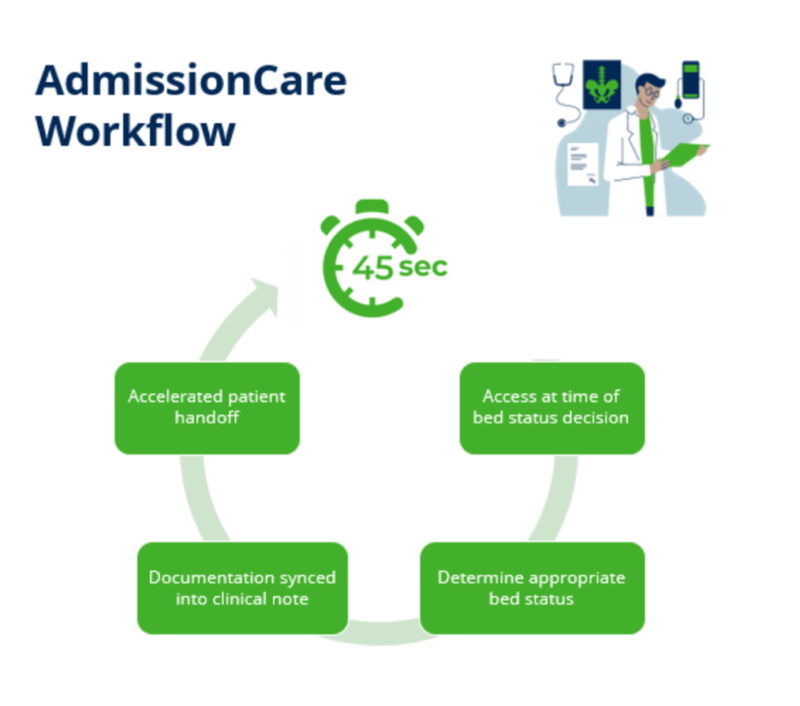 With AdmissionCare, physicians have access to automated guidelines directly in the EHR workflow. This allows physicians to spend more time with patients, decreases physician burnout, and improves the patient experience. All while reducing denials, getting faster reimbursements for your hospital, and increasing revenue.
Watch this video to see how AdmissionCare works and schedule a demo if you'd like to see what it'd be like in your EHR.